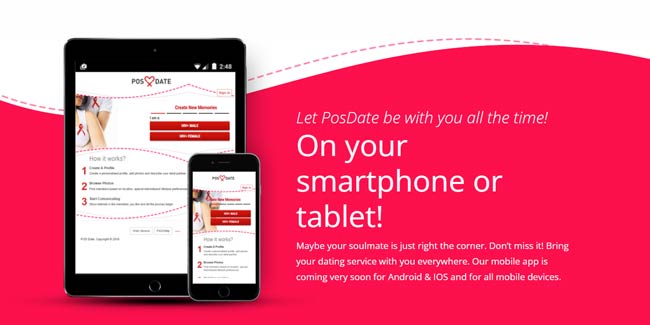 It would appear that 2023 is the year of love. We say this because we noticed a strange trend emerging. Several of the biggest HIV Dating sites are now free to join. Yes, it's true and there's no catch or anything like that. Once you go through a short registration process where you won't have to enter a credit card number or any other personal details regarding payments, you'll be able to use the dating platform fully. This means you'll be able to browse profiles, send messages, chat, and even send out flirts. Remember flirts, we've already talked about their importance in this article.
We have prepared for you a special list of three free HIV Dating sites and each of them caters to a different group of people. If you're looking for something serious like marriage or a serious relationship, don't worry, we've got you covered. And if you're looking for hookups or something casual, you know we have a special HIV Dating site ready just for you. Finally, we also have more of a social hub, a place where you can always find someone to talk to. And if you decide to take things to the next level, there's nothing stopping you from doing that. So, without further ado, here's the list:
POS Date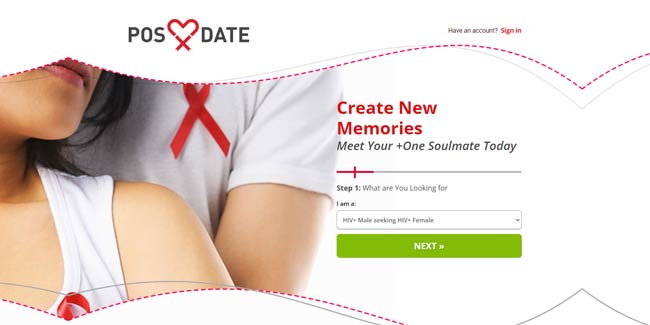 POS Date is one of the most popular HIV Dating sites in the world and it's free to join right now. This means that there will be a lot of people online as soon as you join. Secondly, their user interface is excellent and the entire site is very easy to navigate. Remember, you'll be spending quite a few hours here so it's important to make that experience as smooth as possible. Thirdly, it's very easy to create a cool-looking profile that will be ready in just a few clicks.
Read our POS Date review and Visit their site!
Finally, POS Date is one of those modern dating sites that makes it exceedingly easy to start talking to someone. You're able to like someone's profile, just like you would a post on a social network. That user will then receive a notification straight to their inbox. And if you want to take things further, you can also send them a flirt, to really show them that you're interested in getting to know them better. And you can finish it all off with a nice and simple message. If they don't message you first!
HIV Flirt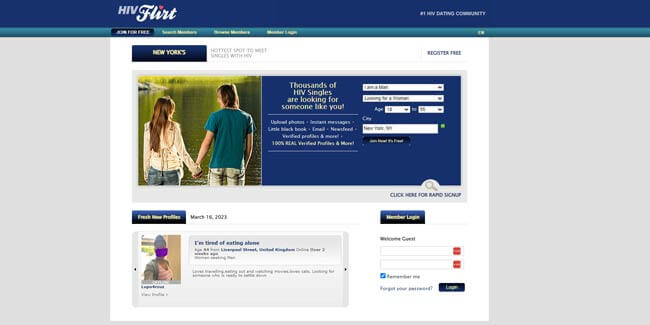 It's right there in the name folks! HIV Flirt is an HIV Dating site catering to those of us who are looking for casual relationships. Of course, this doesn't mean that you can't find love or even marriage on this site. Mostly because you can as this depends solely on your and your partner's choices. We recommend that if you're looking for something a bit more serious, you say so when creating your profile. HIV Flirt is not just a site where you can flirt and chat with other users but it's also a community.
Read our HIV Flirt review and Visit their site!
It's a supportive and vibrant communitiy of diverse people who are always down for a chat. You can easily make friends and if you decide to take things to the next level, well that's up to you. The site is very easy to use and as it is the case with all the other sites on this list, it's free to join. Finally, we should also mention that it features members from all over the world. So, if you live outside of the United States, this HIV Dating site is a perfect choice.
HIV Dating Online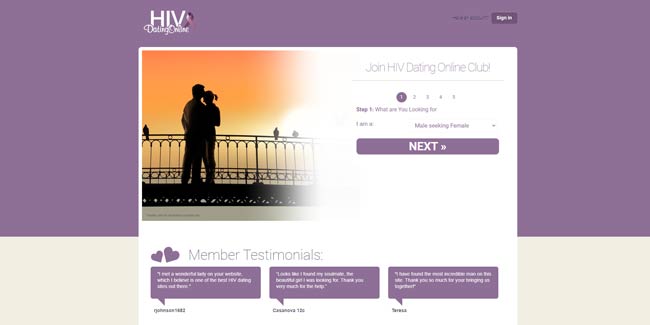 HIV Dating Online is probably the best all-around HIV Dating site you can join for free right now. It's best for those looking for regular dating although people who are looking for something casual will love it as well. You will become a member in just a few clicks after providing the site with your email address. From then on, it's all up to you. Although we should not say that because all new members get extra exposure as soon as they join.
Read our HIV Dating Online review and Visit their site!
This means that your profile will be extra visible and show up more in searches as soon as you click that join button. And remember, all of this is for free, so what have you got to lose? Maybe this is the site that will change your life and help you find a soulmate in this strange world of ours. So, you should not waste any more time reading this text. Go out there and make things happen.